Iselin Engan breaks the Royal spell
August 18th, 2008 by admin
The OFWs  Ambassador of the year award 2008, went to (the very not present) Princess Mette-Marit. The following days, she was still nowhere to be seen, never there….
At the end of the week, Iselin's collection was the elixir needed to lure Mette-Marit out of her homely castle, and into the glamourous catwalk festivitas.
This years collection SS09, marks a slight turn off the main road for Iselin. A bit more spunk, it is less wearable than previous collections. You can definitely not sit down and have dinner in that re-frost-snowball dress. No doubt, it looks sweet and delicate parading down the runway, surrounded by a fog of bubbles. But in the real world, the odds for it looking good seems rather slim. (Photo: Silje Golf)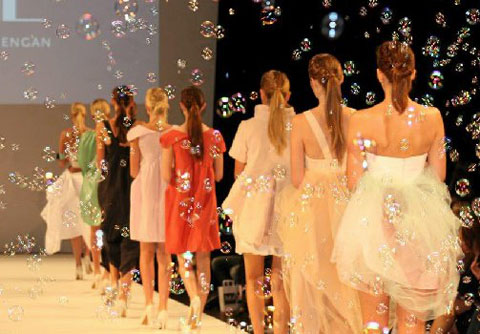 Iselin Engan seems to be just what Norway wants these days. With her approachable/down to earth persona and pretty likable dresses, she has become somewhat like the Norwegian equivalent to Stella McCarthy. Excelling in slightly-above-mediocrity's, niceness…and with a touch of coy rebelliousness to top it off.
Some of here details, are sufficient to show that she have some genuine talent. (Like the reoccurring and alluring-touchlines, something in her designs just makes you want to go out and embrace the dress, and person inside of it…)
Still, she probably needs a couple of years to grow into her true identity as a fashion designer. Only time can tell…
Posted in Uncategorized