Jimmy Jumps, again!
July 12th, 2010 by admin
Though the Norwegian football team was fashinably unqualified for world cup 2010, one can argue that the Norwegian law enforcement (or lack thereof) played a minor part in Spain's successful quest for the golden trophy.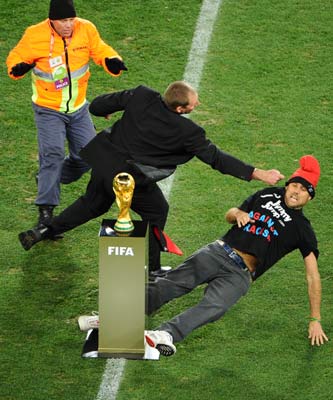 As Spanish rebel Jimmy Jump, resently arrested for crashing the Eurovision stage during Daniel Diges live performance of  "Algo Pequeñito", then released (together with a 1800 euro fine) after spending one summer night only in comfortable Norwegian jail cell.
Ordered to leave the country….free to jump, jump, jump  all over the world!
Straight in to south African world cup.
An act of crime, thats for sure, but smooth criminal…
His tasteful interruptions are quite entertaining.
Posted in Eurovision song contest