Norwegian reality rejects team up to save the Rainforest!
September 3rd, 2008 by admin
At least they are making an effort, and one of them actually won the reality show (so much for a dramatic headline!-9)
Anyway, previous Designerspirene (Project-Runway) contestant Tina Haagensen and winner Daniel Sørensen have at the request of Regnskogfondet, created a beautiful collection solely out of used clothes. Used clothes made available through the other collaborante participating in this act of kindness, Finn.no, well know for its endless supply of whatever you want, don't want & didn`t know you wanted, sometimes presented in ways beyond your most vivid dreams. Very fascinating to browse through at work….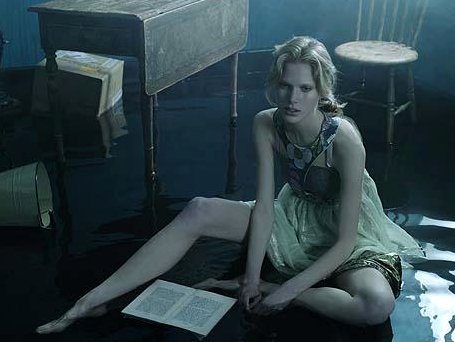 Presented above, a dress from the collection (Photo: Siren Lauudal) interpreted by Norwegian model Iselin Steiro, probably to give it a little touch of international integrity. Its almost Vogue…
Now you can spend your excess cash bidding at the online auction. Don't be greedy, remember its for a good cause….
Posted in Just mentioning