Per Spook`s fashion on a plate
August 20th, 2008 by admin
A well-done crossover between food and fashion, the yin & yang of the good life!
Per Spook`s recent dinner service Bistro succeeds in being plesant, interesting and usable. At the same time, fun and relaxed. Eating a Croissant out of this plate, takes away some of your worries about the….consequences. (Photo: magnor.no)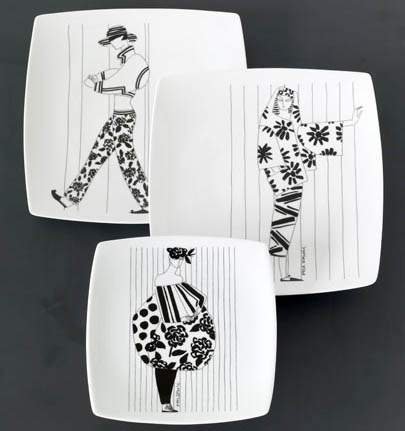 Working with fabrics as a fashion designer have its limitations. His transitioning in to the glasswork-industry (1996) have been very successful. Contrasting Ari Behn who went from being a writer, to designing a (tacky and outdated-Peacock) dinner service for the same glassware company.
Per Spook on the other hand, deliveries something meaningful and fresh. With perfectly shaped lines that only a true artist could create… 
Its already a classic…(IMO)
Posted in Norwegian designers