The duck pond pre 22.07.2011
August 13th, 2012 by admin
It was a slow spring, and a mellow summer the Norwegians were granted in 2011.
In the middle of nothingness, a bird decided to nest in PM Stoltenbergs backyard.
Here, firstly seen in camuflage sandwiched betwen Norwegian PM Jens Stoltenberg and Serbias President Boris Tadic (photo: Statsministerens kontor)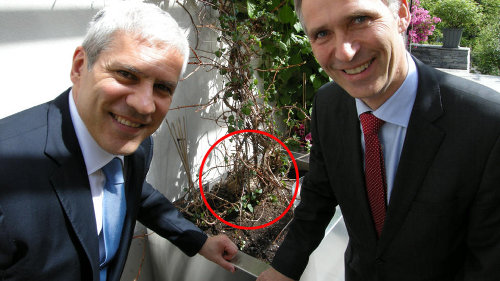 Sweet.
Next was the hatching.
Preformed in orderly manner, before escorted by Jens and his gouvernmental crew safely across the road and into the royal duck-pound.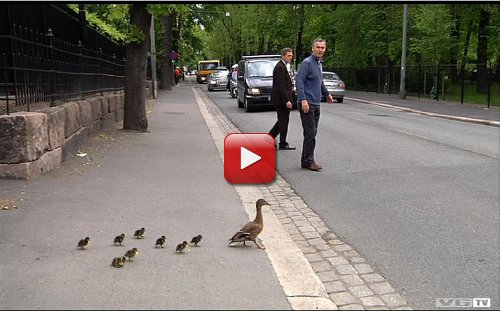 Truly a happy ending in our happy land of oil and welfare.
As othervise nothing of interest rearly happen, this was a great object of desire for the press, the PM and the people of Norway alike.
The duck settled well into their new habita. Little was left but a memory of an involuntarily national pet and the very real democratic prosses of naming such a splendid creature. Here name was Veranda.
The ducks name was Veranda.
Now, mowing on to the next month; June 2011
By now, a new substitute of exitement was induced to our humble nation, an epic cruice-ship trip marathon set sail. From the far south to the high North. On camera 24/7. The worlds longest live TV production ever. Broadcasted by NRK – the "national (state) TV producer" [Known among other things for their infamous half-time flash mob stunt during th 2010 Eurovison Song Contest mid-game finals click]
Anyhow… one does not settle down with such.
The light viwid months of June was about to leave its mark.
Fortunately, this entire new pet was to be the object of all our desire, relieving the duck of its duties. (more info: click or click)
The cruise-ship sailing the entire Norwegian coastline.. endlessly, and uniting our undivided nation – in front of our very eyes (through the TV-screen).
This was Norway.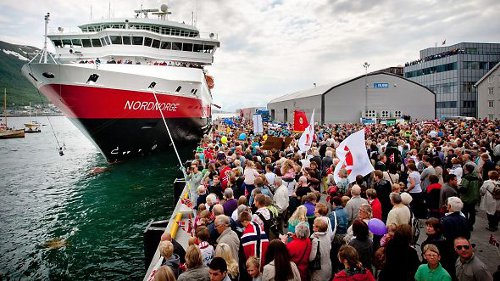 Young, old.. everyone.
Watching.
Everyone, just watching as our precious country float by.
We all loved it.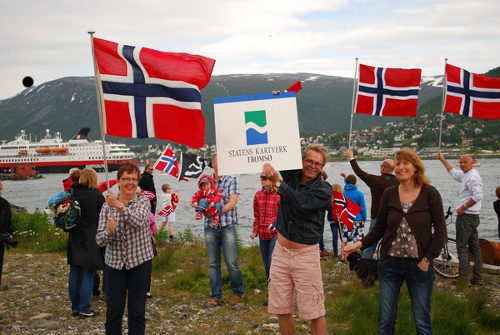 On the down side, as it was a 24/7  live production… leading to citizen of this arctic nationale staying up all night and all day.  Smug, and proudly enjoying our beautiful peaceful country. What a bliss?
All play, no work.
ALL PLAY, NO WOK!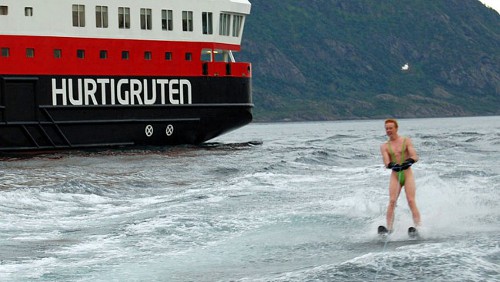 Life was good. Decent.
But not for everyone.
For one guy, June 22. 2011 was, according to his diary, like this:
I reinstalled Windows 7 on my PC hoping that it would solve mynetwork problems. It didn't work and I figured it had to be the network card or the phone lineitself. I drove to the PC-repair guy in the local town and delivered it. It should be ready bytomorrow. I continued to prepare the chemistry equipment for getting ready to manufacture allDDNP batches. When I was done I completed the last purification batch of the unpurified picric acidand ended up with several liters of PA liquid that had to be chilled. I then drove to the local townand bought three portions of Chinese takeaway. Beef with noodles and fried rice, yummy!. I tookan early night as I didn't have any PC
At that time nobody knew.
One month later, everything had changed.
–
On the other side of the equation, prior to 22. July 2011 Norwegian security people had spent ~5 years unsuccesfully trying to block access for cars to park right in front of  Norwaays governmental headquarters.
(This picture by yours truly in 2005)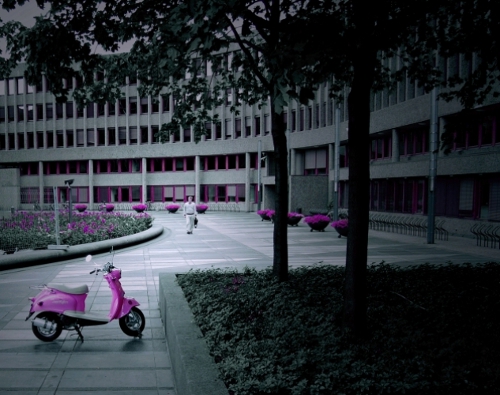 Though, no one was able to block the street from cars and possible car bombs.
And, no one seemed to really care.
According to quite a few WikiLeaks cables, this situation of desperate neglect of possible terrorist treats was pointed out by US-diplomates. But, nobody would listen.
So, while the US embassy was sealed into a protective nest of fences, private security forces and ID-checks. The entrance of  Norway's government was practically a public parking-space.
Frankly, the Norwegian government was only protected by this provisional private sign, telling people to not park there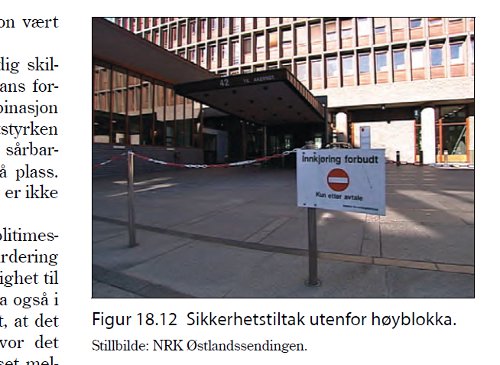 .
Meanwhile, the world moved on.
Days went by…
The presious flock of Norwegian citizens moved along as expected. Polite, not making any fuzz…  minding their own business.
Except one.
July 09. 2011
Later that day while I was enjoying a meal, the neighbour stopped by. As I had just completed themixing session I still had AL stains in my face and powder in my hair. I tried the best I could to quickly wash it off but my hair still had a silver tone and it looked very weird.

The neighbour askedif he could fertilize my fields and remove some rocks as this would increase the yield of animalfodder by 100% (the current crop). As this meant that he would get several people to work on myproperty for a week's time I declined telling him that I had plans of my own.Later that day, while I was watching an episode of True Blood, I saw a large van driving by thehouse and parking next to my car. There was at least 4 people inside. Nice, I thought; it's probablya SWAT team coming to skull-fuck me. The farmer must have tipped them off…

Thank God, it wasonly 4 Polacks looking for worked and I sent them on their way. It would have been tempting tohire them to mix my ANALFO…<3, hadn't it been for the fact that they would have understoodwhat was up:-)
Meanwhile, Norway was prepping for their annual 5 week summer vacation shutdown.
Soon, everyone would be out on a 5 week holiday.
Except for one.
July 11th 2011
I reserved a rental car today, from AVIS, the same company I'm already renting my primary carfrom. There was not enough credit on the card for a deposit so I had to go to the northern townand transfer 2000 euro to it.Considering the fact that I am currently working on the most dreadful task, I bought a lot of exquisite food and candy today.

I really need to recharge my batteries and increase my moralebefore initiating the ANALFO mixing. Good food and candy is a central aspect of my reward systemwhich keeps me going.

It has proven efficient so far. Occasionally, if I'm really not keen on doing aspecific sub task, I take a red bull, a shake of noXplode or an ECA stack – to get a jump startbefore jumping into something I'm not looking forward to – f example extremely lame or labourintensive tasks or tasks involving great risk of injury or death.
Nothing much more of significant happened, until
15:25:22 – July 22th 2011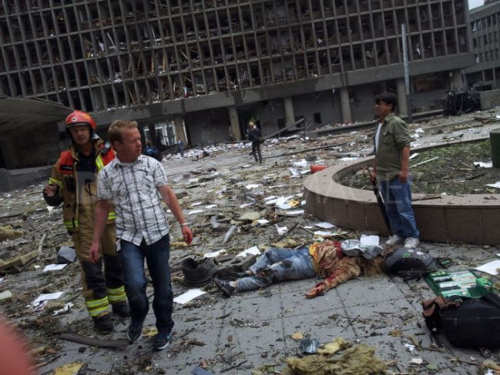 And, this was only the beginning.
Posted in Politics