Update: Oslo fashion fair (week) 2010
February 18th, 2010 by admin
This is what happens when u try to be an infamous fashion blogger, in addition to aspiring Nobel prize winning medical scientist.
The location for OFF RSA bilhall,  Drammensveien 130 reads, Drammen Bil hall!! 

So, the location for OFF 2010 is NOT faraway in Drammen, but rater close, conveniently located downtown Oslo (look for big pink balloons!)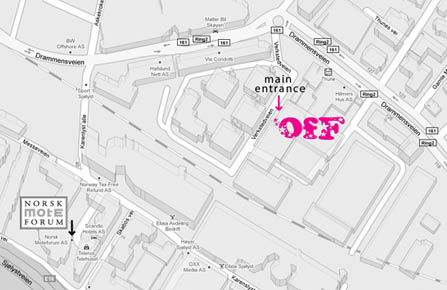 Anyway…
Some OFF/OFW updates:
# – 1 – Oslo Fashion Fair, now free entrance!
Including:
Exclusive "signature" bracelet from Arts & Crafts
Elle nr.3 with trendbible
Exclusive chocolate from Sebastien Bruno
Mascara from Oriflame
Lotion from Vicey
Hairspray from Loreal Elnet
Isklar mineral water
# – 2 – Remember to sign up for the Moods of Norway Cocktail race!!
and, remember to call in "sick" for work (blame it on the tap-water), and update your facebook status accordingly.
XOXO
Posted in Uncategorized